Dog beds come in all sorts of shapes and sizes. Picking one that is suitable for a Boxer is rather tricky affair especially when manufacturers or online stores don't classify which type of bed is best for which particular dog breed. My boxer has went though a number of beds so I thought sharing my experience is going to benefit those look for a dog bed for boxer.
What to look for in a good dog bed
Not all boxers are the same. They have different temperaments and preferences so what works for one dog might not work for another. Having said that, here is a simple guideline to show you what to look out for shopping for a dog bed for your boxer.
Spacious: Boxers can be rather big sized dog so get something big for them to move around in. My dog lies to roll around in his bed so the extra space helps in getting him to like the bed.
Durable: Boxers are not as stronger a chewer as other breeds so you have less worry about them shredding the bed. What you want to look for instead is how tough the sitching is for the fabric and whether the material is durable.
Washable: Being able to regularly wash the dog bed cover keeps the dog bed clean and smelling nice!
Price: In general, a dog bed should be around the price range $40 to $60. Only bed types like the orthopedic beds will cost you more. My recommendation is to spend too much on your first dog bed. You never know how it will react to it. It might like the bed or it might destroy it. Only when you are certain your dog bed is suitable for a dog bed and you can think about spending more money on them.
Best Boxer bed from Amazon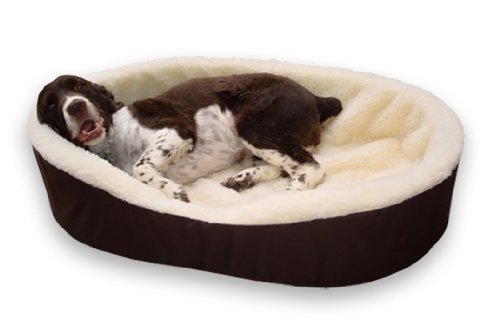 If your boxer is large and you want a spacious bed for it, then Dog Bed King USA's dog bed is probably the ideal choice. It was the best choice when I was going through the entire Amazon website for what is a suitable bed for Boxer.
Now, this was my Boxer's prefer bed for the longest time. It is big enough for him to feel very comfortable even though he is around 80 lbs. He loves it so much that getting him to leave the bed initially takes some training.

I think one reason my Boxer likes it so much is the padding. It is really soft and comfortable so I think the dog really enjoy laying in it.
A cool thing about this bed that the cover is machine washable. It is easy to take the cover off and was it now and then to remove any smell that might be staining the bed.
Cheap dog beds for Boxer
Of course, Amazon is not the only store in town. For the budget conscious, there are some other options you can consider.
DIY: There is a fantastic material called Crypton that is stain resistant. It is perfect for making into a dog bed as it doesn't pick up dirt easily and can be easily washed.
Costco beds: Another popular option among boxer owners are the dog beds from Costco. They are slightly cheaper than those from Dog Bed King USA. However, they have cedar filling so your dogs might not take to the sleep. One solution is to air them out for a few days before letting it be used by the Boxer.
Cedar Creek: This brand only sells the dog beds from dog shows. You need to go to his website here to know what is the show schedule. Below is an image of how 2 boxers are enjoying the bed. It is made of very nice look fabric and is very comfortable for the dogs. The interior is filled with shredded foam which explains why it is so comfortable to lay in.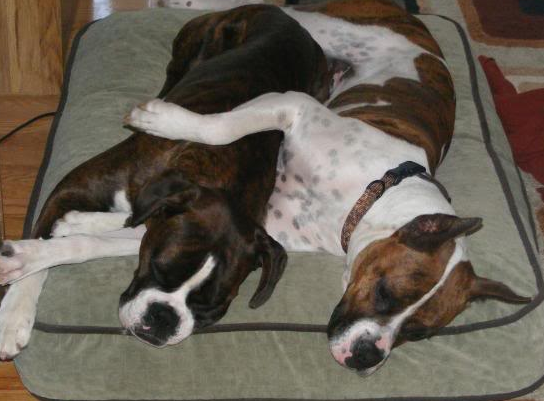 Drs. Foster & Smith orthopedic bed: This is a more expensive dog bed as it costs more than $100 but the quality is really worth and should last you for a longer time. Unfortunately, this brand only ships to within US so if you are staying overseas, you ran out of luck.
Conclusion
Getting a boxer dog bed is as troublesome as getting a bed for ourselves. It must be something the dog likes and want to spend time it. Take your time to go through some of the recommendations above and see which one is your best choice. There are other websites that you can refer to, and one of them is dogntreats. Click here to find out more.